808-Boom
Infinikey
Keycaps designed by C.Y.O Keycaps and Langelandia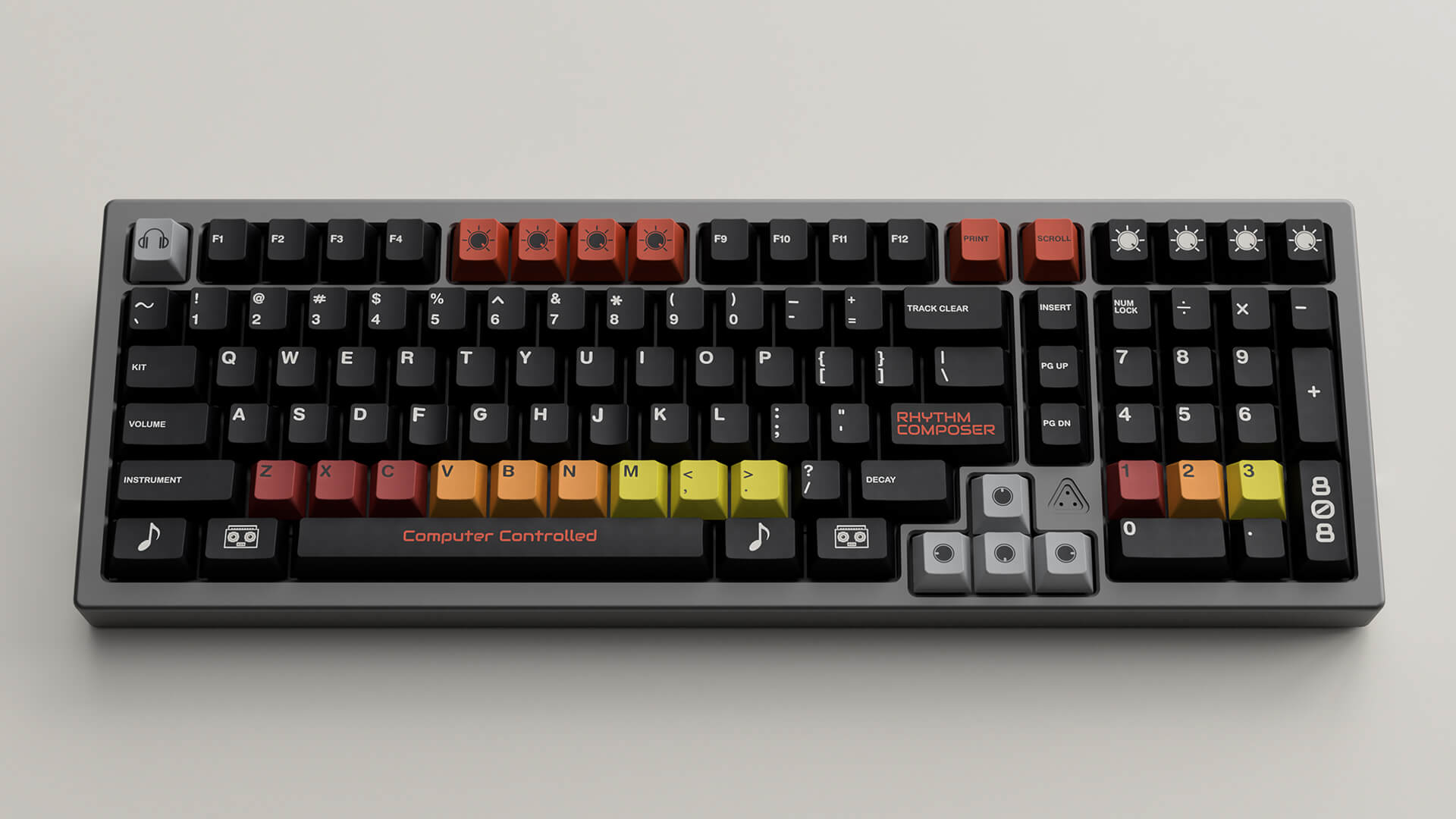 About the Set
The Inspiration
TTYlerdurden of C.Y.O Keycaps, Thatcliff, and Langelandia have teamed up to bring you all a keyset inspired by one of the most iconic devices in music production and beat making.
The device is a drum machine that was manufactured in the early 1980s and has continued to influence drum beats for decades. It was one of the first to allow producers to program beats instead of having to choose from preset sounds and patterns. It was discontinued from production after only 12,000 units were made. Between the difficulty of stocking the semiconductors used, and analog synthesis sounds being ahead of their time (pre-electronic/hip-hop), the machine was eventually replaced by a later model.
The device features some of the most recognizable percussion sounds in music history and has been used on more hit records (either originally, or through track sampling) than any other drum machine. The booming bass lines, crisp snare, classic cymbals, and renowned congas, cowbells, and handclaps are what make this machine's sounds so celebrated and sampled.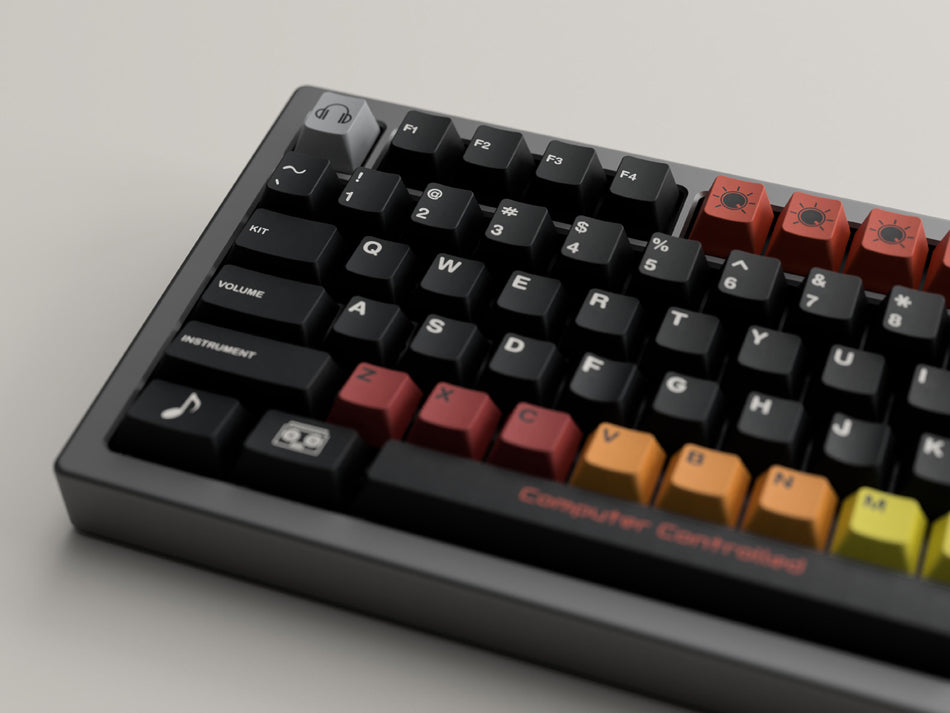 Charity Fundraiser
We are proud to say that we are partnering with the Children's Music Fund. They are a 501(c)(3) nonprofit dedicated to bringing music therapy to children affected by chronic conditions or life-altering illnesses in order to help them on their journey towards a better quality of life.
We are donating 100% of designer profit. TheKey.Company is also adding to this amount so that each Bass Kit sale will give $10 directly to the Children's Music Fund, and a portion of the sales from every additional item sold will directly contribute to the Fund.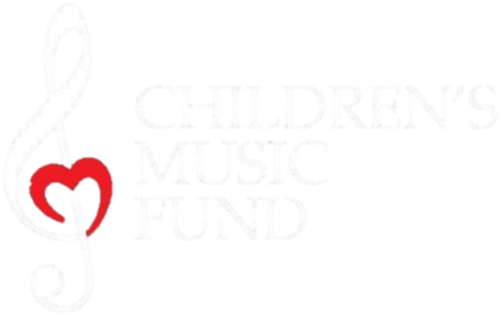 100%
Designer profit to CMF
$10
Per base kit sold to CMF
The Products
The 808-Boom collection includes a keyset, deskmat, and various artisan keycaps and cables, available through collaborations with the keyboard community.
Specs
Cherry profile
PBT plastic
Dye-sublimation
Manufactured by Infinikey™
Colors
Pantone 1665 CP
Pantone 7620 CP
Pantone 15-1054 TCX
Pantone 395-XGC
GMK WS1
Pantone 6C
Pantone 14-4202
We've chosen specific colors that are already used in Infinikey Black on White and White on Black, so you can mix and match if you wish.
Font
808-Boom features the font Audiowide, designed by Astigmatic.
Bass Kit
Base – $100
The Base Kit covers most standard full-size, TKL, 75%, 65%, and 60% boards.
Cymbals Kit
Spacebars & Novelties – $15
The Cymbals Kit features two novelty spacebars, accent R1 keys that fit right at home on your Esc key, and a novelty 808 return key for ISO layouts.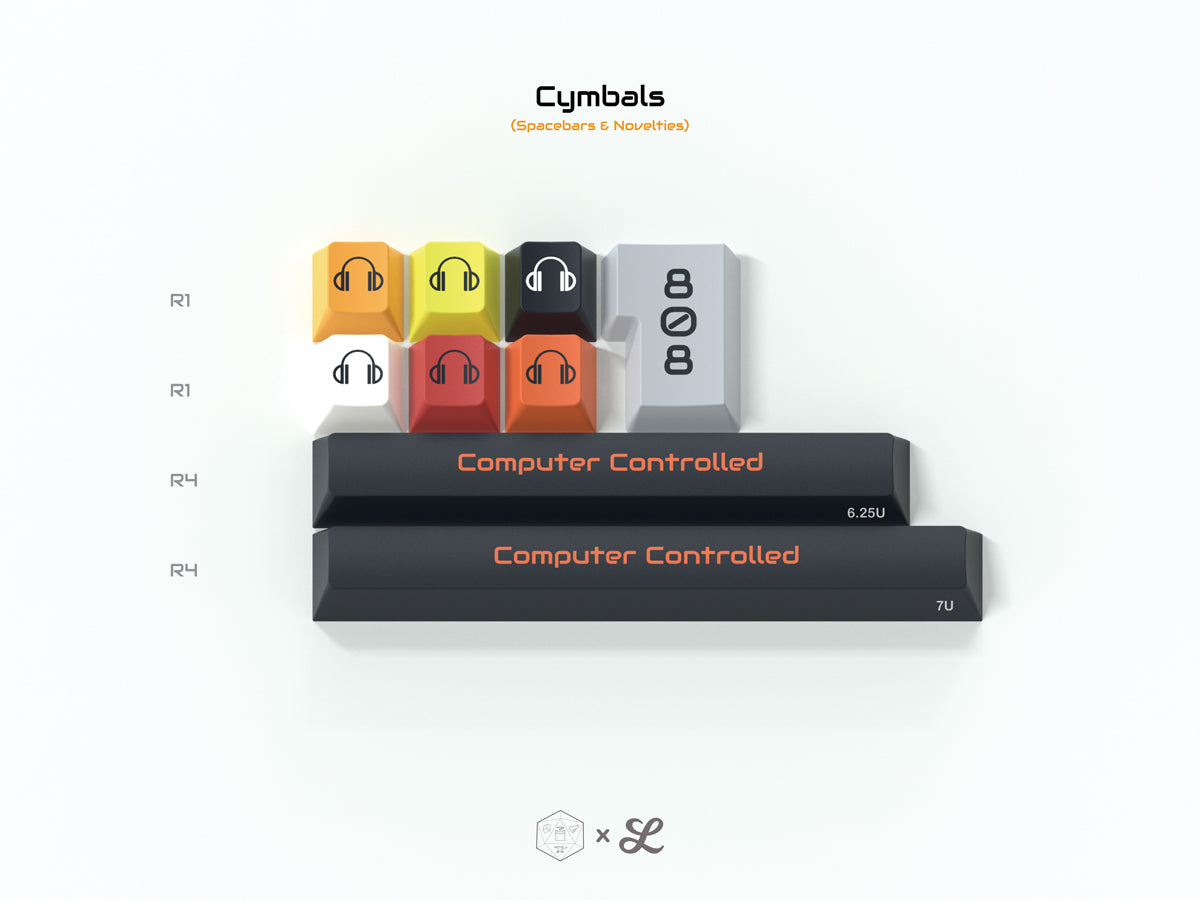 Trap Kit
Support – $25
The Support Kit covers unconventional keyboard layouts like 40% boards, split layouts, and Alice layouts.
Rhythm Mat
Deskmat – $25
A matching deskmat to go with your set.
900mm x 400mm x 3mm
Stitched edges
Cleaning instructions: machine washable on delicate, or hand wash. Air dry.
Renders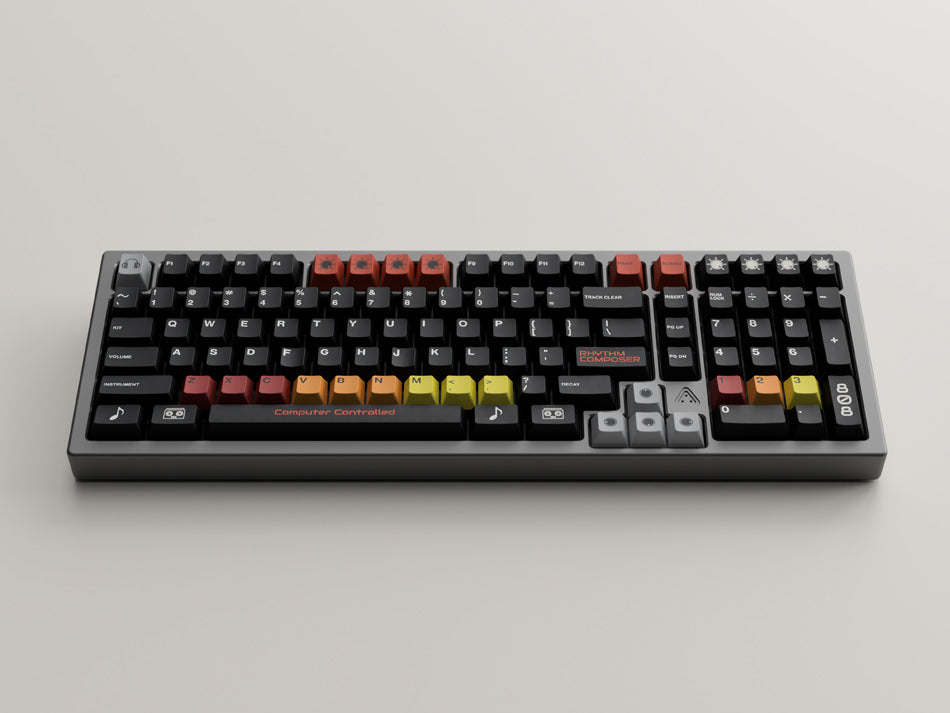 AUstin
EVolv
RuKia
J-02
Bonus Content
Listen to a playlist of songs showcasing the iconic sounds, curated by C.Y.O Keycaps 🎉
About the designers
C.Y.O Keycaps
C.Y.O Keycaps, also known as TTYlerDurden, is a designer and maker of artisan keycaps.
Instagram: @ttylerdurden
Langelandia
Langelandia is a designer, and previously designed the keysets GMK Café and Infinikey Græn.
Instagram: @langelandia | Discord